HIT Gun - Solder Pump Head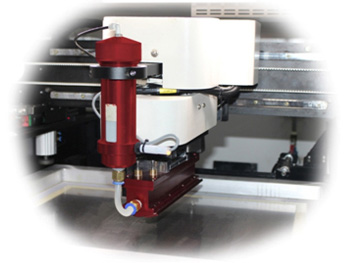 New developed solder pump head, with the advantage of supply solder paste automatically and saving cost to largest extent, is available and good for 0201 chip.
Auto. solder paste supply

Auto. pressure control

Perfect printing effect

No wasting of solder paste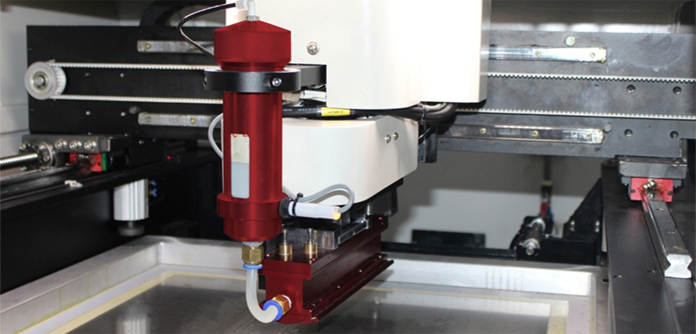 X-axis printing head
Each axis movement of squeegee head is controlled by precise servo press independently to improve printing quality.

Customer can free exchange HIT GUN or conventional squeegee head according to actual requirement of production.

X-axis printing head
Adjusting squeegee head for mask wide range opening can have a better printing quality.

SPECIAL AND EXCELLENT
Description of the Stage
Mask decompression device
After printing the solder perfectly separated from the mask, so that to realize high quality printing.
Clamping system special for bend or deistorted PCB
Two way stage moves up and down for high quality printing
Silicona mate inlaided in cleaning head

It can fit the mask more closely and make cleaning effect perfect.

Four Fiducial Mask Teaching System

As for the PCB that deformed or with high tolerance, four fiducial marks can ensure more accurate when printing, while only two fiducial marks would lead more deviation.
Automatic Mask Moving Device

The new stencil moves to the printing position automatically.

SPI Printing Feedback System

After received the feedback information of bad printing from SPI, the printer can inspect and clean the mask holes automatically, thus improve printing quality and production rate.
PERFORMANCE
Precision Camera Scanning

2D inspection

FOV: 2.5 mm x 8mm

Size: 0.3 mm and over at most 500 teaching window

Driven by Panasonic servo motor and accurate ball screw

The segment Conveyors

Adopt Korea imported conveyor belt in the three segment conveyors

EQUIPMENT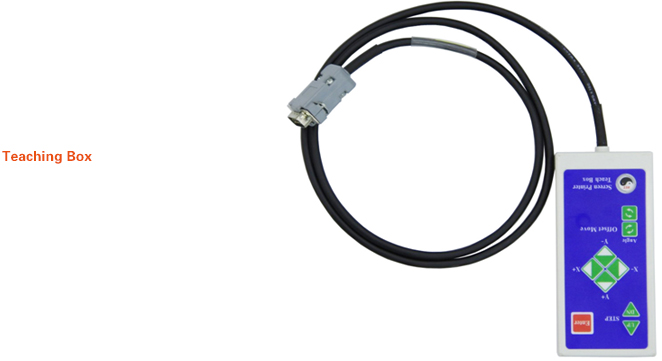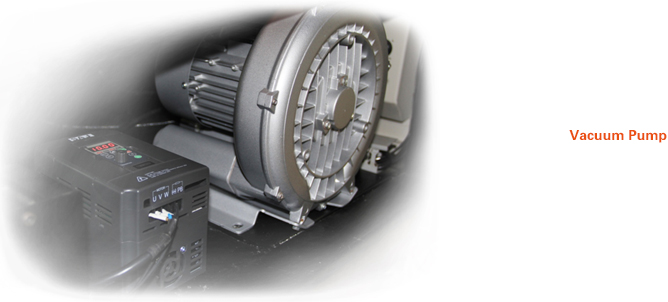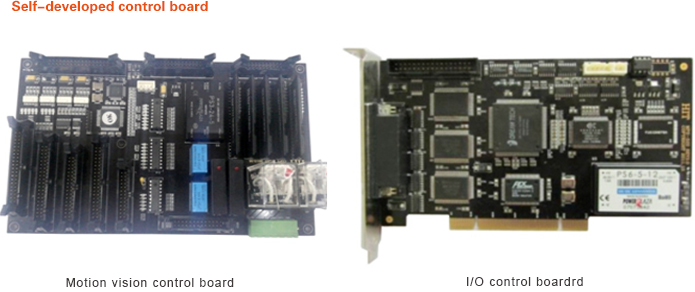 SPECIFICATION
HIT520Smart

Specifications

Mask

Min. size

650x550 mm

Max. size

650x650 mm

PCB

Size

50x50~330x250 mm

Thickness/Weight

0.4 mm~6 mm / 4kg

Under clearance

17 mm

Transport direction

left->right/ right->left (Option)

Squeegee

Squeegee type

Metal squeegee/HIT GUN (soplder pump head)

Length

250 mm, 350 mm, 420 mm, 460 mm, 600 mm

Moving direction

X axis moving

Printing

Accuracy/Speed

±12.5 μm @ 6 sigma/ 1~300mm/s

8s (Excluding printing time)

Fiducial Mark

Type

User defined

Size

0.5 mm~3 mm

Mark number

Two, Three, Four

Snap off

Type

Vacuum/Decompression

Speed/Distance

0.5 mm/s~ 30 mm/s / 0~5 mm

Cleaning System

Type

dry/wet/vacuum/air

Cleaning head

Silicone pad

2D Inspection

Fov Camera

8.5 mm x 8 mm, CIS 640 x 480 Japan

Inspection

solder small or miss

Inspection Size

0.3 mm, over 0.3 mm

Max Teaching Window

500 window available

SPI Communication

Type

printing offset and cleaning

Air Condition System

PC Control system (option)

Other

Size/Weight

1330 x 1375 x 1490 mm/ 800 kg

Power supply/Air supply

220 V± 20V, 2KW 50/60 Hz/ 4~6/cm2

Operation system

Windows XP, Flash Memory Type HDD
EQUIPMENT SIZE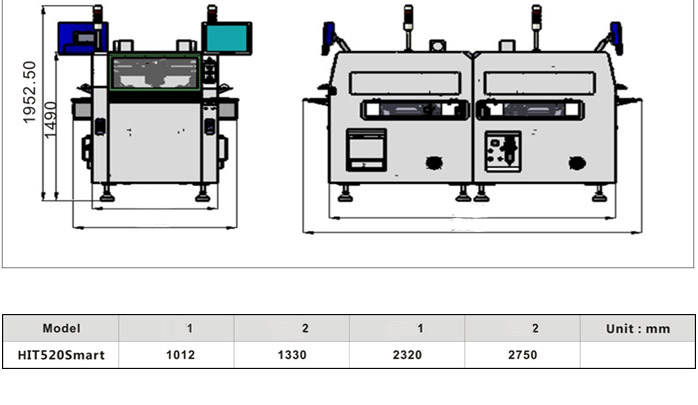 ---
AJÁNLOTT TERMÉK

---