A 75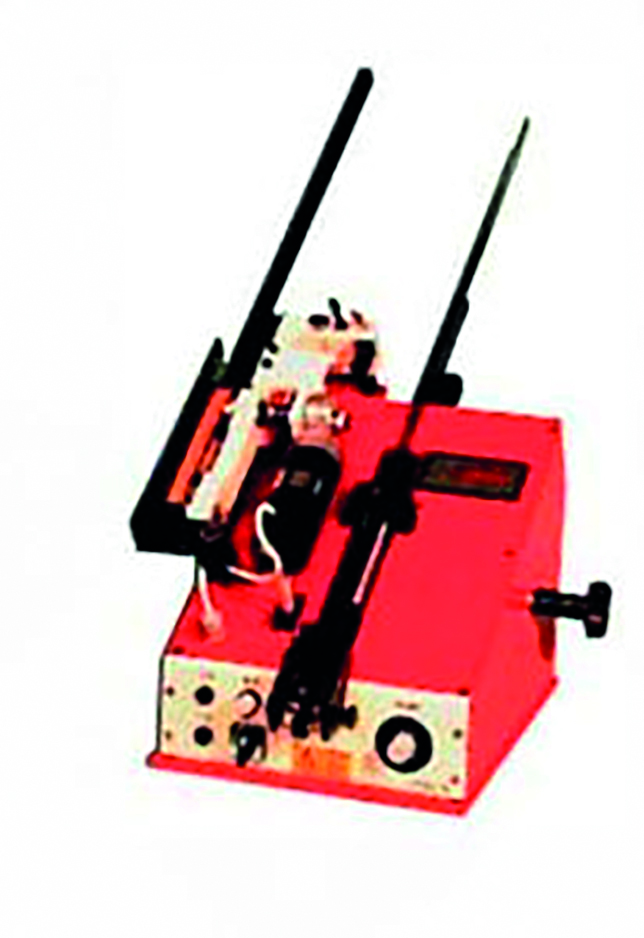 Straightening Machine

The straightening machine A075/Ri is designed to straighten the leads of dual inline components utilizing a tube to tube feeding configuration. Fully adjustable, the A075/Ri requires no die changes, which allows a wide range of sizes to be processed quickly and easily. The lead span adjustment is displayed on a digital panel meter and the operating speed is infinitely variable.
C 57
Universal Cutting Machine
The Universal cutting machine C057 is designed
to cut the leads of loose radial components with
lead diameters up to .8mm [.032'']. The machine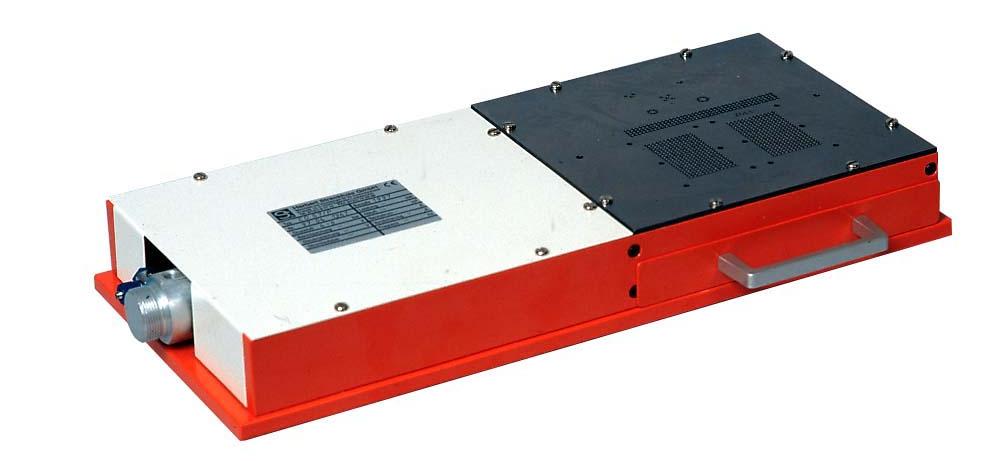 utilizes spring loaded cutting blade traversing a
top shear plate to perform the cutting action.
The standard shear plate is supplied with predrilled
hole patterns at a thickness of 3.0mm
[.120'']. Foot pedal operated, the C057 provides
a simple, economical solution to cutting radial
loose components.
C 66 MA
Cutting Device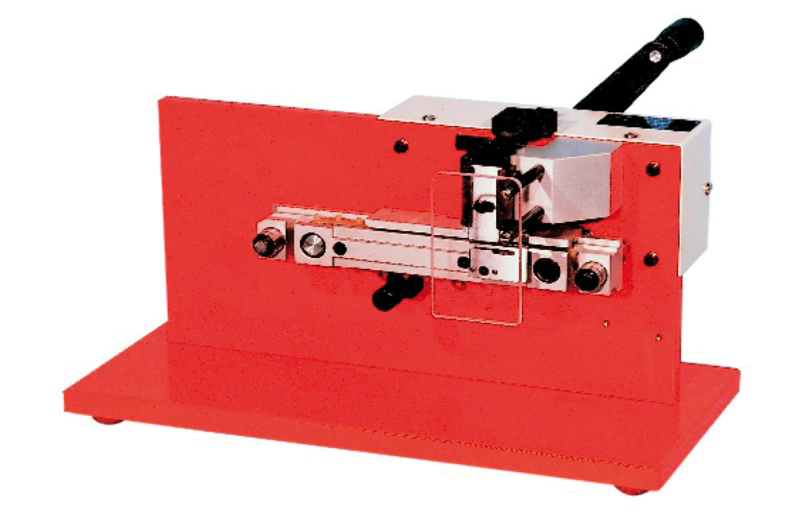 Eleminating taping tolerances
With the Streckfuss device Type C 066 MA, all taped
radial components, which meet the IEC-specifications,
can be cutted to the desired length.
E 120
Automatic Radial Trimmen! Former TO 126/ TO
220/ SOT. Feed from/to sticks or loose component
or with a Bowl Feeder
The automatic operation of this machine is particularly weil suited for cutting and bending of power transistors of type TO 126/TO 220 ISOT.

Dimension "X" is adjustable.
Dimension "Y" is fixed (specify length when ordering) also specify pitch dimension offset "RM"
Special forms available on request.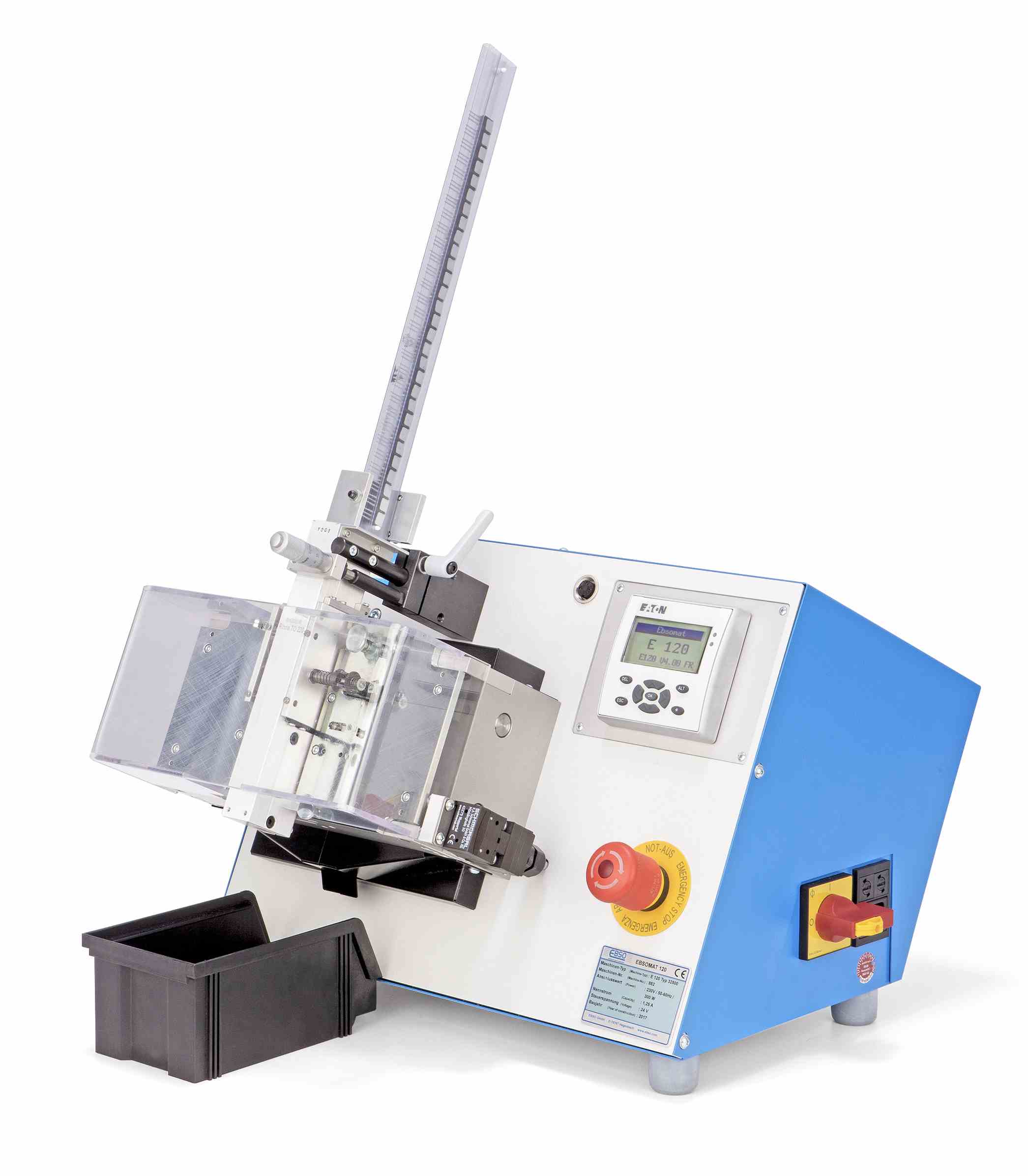 Special Features::
2-11 pins per component (15 Pins Option)

easy tool changeover

easy and comfortable operation

component body channel is easy to change and to adjust with a micrometer screw

all electric

suitable for medium to high quantities

operating speed up to 3600 cp/h

maintenance-free

stress relief tooling prevents component damage
E 20-5
Cutting machine for D-SUB connectors
and different connectors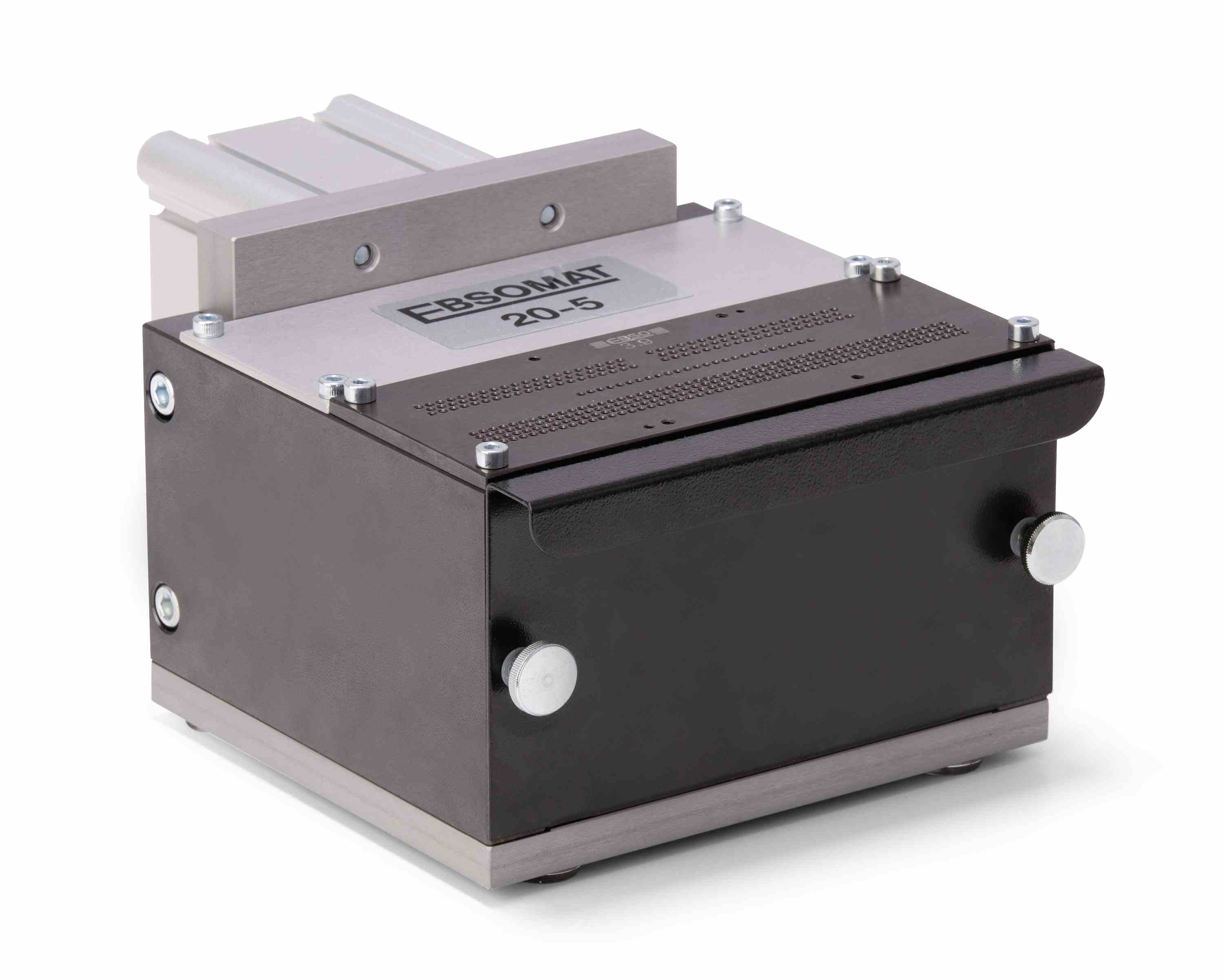 This machine is both flexible and cost effective. The basic pneumatic machine could be equpped with 1 (of4( standard cutting plates. Custom cutting plates are available.
Cutting plates are available from 2.0 mm up to 5.00 mm cut length.
Custom cut lengths as weil as custom patterns are available for your requirements.
The basic machines includes a foot pedal, junction box and air hose.
E 200
Trimmer/Former for Taped or Loose
Radial Component
Automatic processing of loosecomponents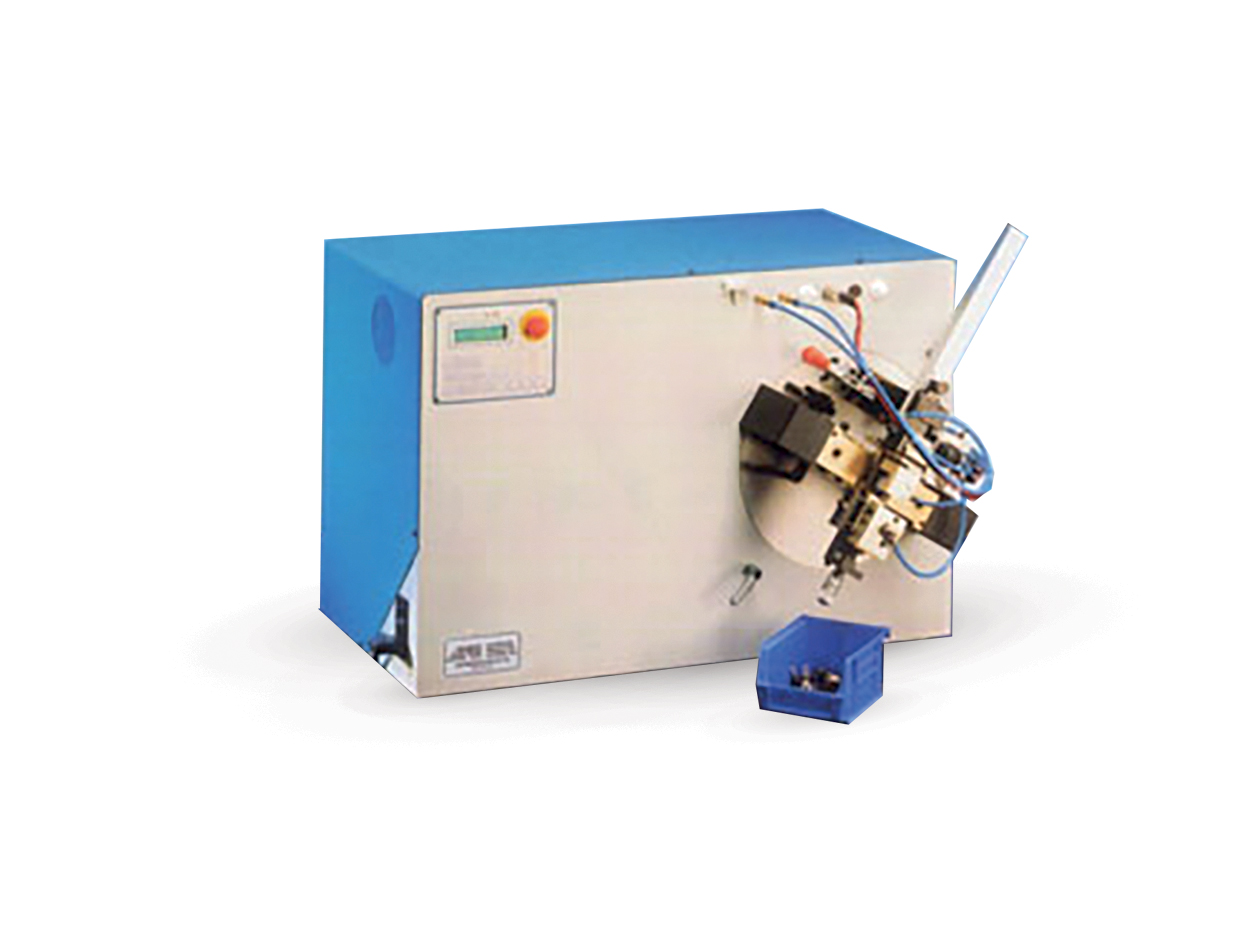 An optional vibrating bowi automatically feeds components to the tool. Changeover of tooling is fast and easy with snap-in dies. No screws or tools are required.
Taped components processed with tape feed attachment
Quick tool changeover by rotating the processing head assembly. Attach the tape feeder without any screws or tools.
FLEXIBLE RADIAL COMPONENT
FORMING SYSTEM
The E-200 is rugged and versatile with many standard dies for processing most radial Ieaded components.
This System makes processing ot taped, loose or tubed radial components easy. The system is suitable tor medium to high volume applications.

FEATURES:
Micrometer type dial adjustment tor trim or form height
Predetermining counter is standard
Dual opposing articulated movement is standard
Vibratory bowl feed Option available
Many processing possibilities
SAMPLE FORMS:
1. Stand-off/snap-in/inline/bolt-circle
2. Spread or reduce pitch
3. 90° bend
4. Outward or inward kinks
5. Standard TO type forms
6. Many standard dies
7..Custom dies and custom applications
SPECIFICATIONS
Power:
230V/50Hz
Dimensions:
650x330x450 mm
Weight:
60kg
Speed(Max.):
10.000 cycles/h
Air pressure:
6 bar
E 300
Trimmer/Former for Taped Components
Manual VersionThe EBSOMAT 300 is specially designed for efficient processing of taped components. Even with manual Operation 10.000 pieces per hour can be processed.
easy tape insertion
reliable tape feeding
adjustable displacement of component tape position
form position is infinitely variable
easy die changeover
adjustable lead diameter

ő

maintenance-free
Custom dies are available per customer specifications
Component Specifications: a) Stand-Off/Snap-ln/ln-Line b) Enlargement or reduction of pitch dimension c) 90° bend d) Lateral Kinks, Pole-Protection Kinks Many more are available
Motor-Drive Version
For more efficient processing of taped components, the EBSOMAT 300 can be retrofitted with a motor-drive kit for fully automatic operation.
output capacity approx.:16.000 pieces per hour
presettable counter
electronic overload protection
Technical Data
Dimmensions

m 250x sz 300x h 460


without reel holder
Voltage supply

220,240,110 V; 50/60Hz

Power

30 W
E 33-1
Trimmer for radially taped components
cutting length directly and easy to adjust
drive with hand crank, or electronic motor (option)
by changing the transport disc you may also rework tapes with different pitch dimensions (C1 Option)
possible to cut directly at the tape
maintenance-free through a robust construction
Option Motor 220 V/50 Hz Rolling Device with Fixing Flange C-clamp (2 pc)
Technical Data:
output, mot.:
60.000 cph
output, man.:
40.000 cph
dimension:
240 x 165 x 210 mm
weight:
6 kg
construction:
light metal casing,
tool inserts of tempered tool steel
E 20-1
Cutting machine for loose, radial components.
Cutting platinterchangeable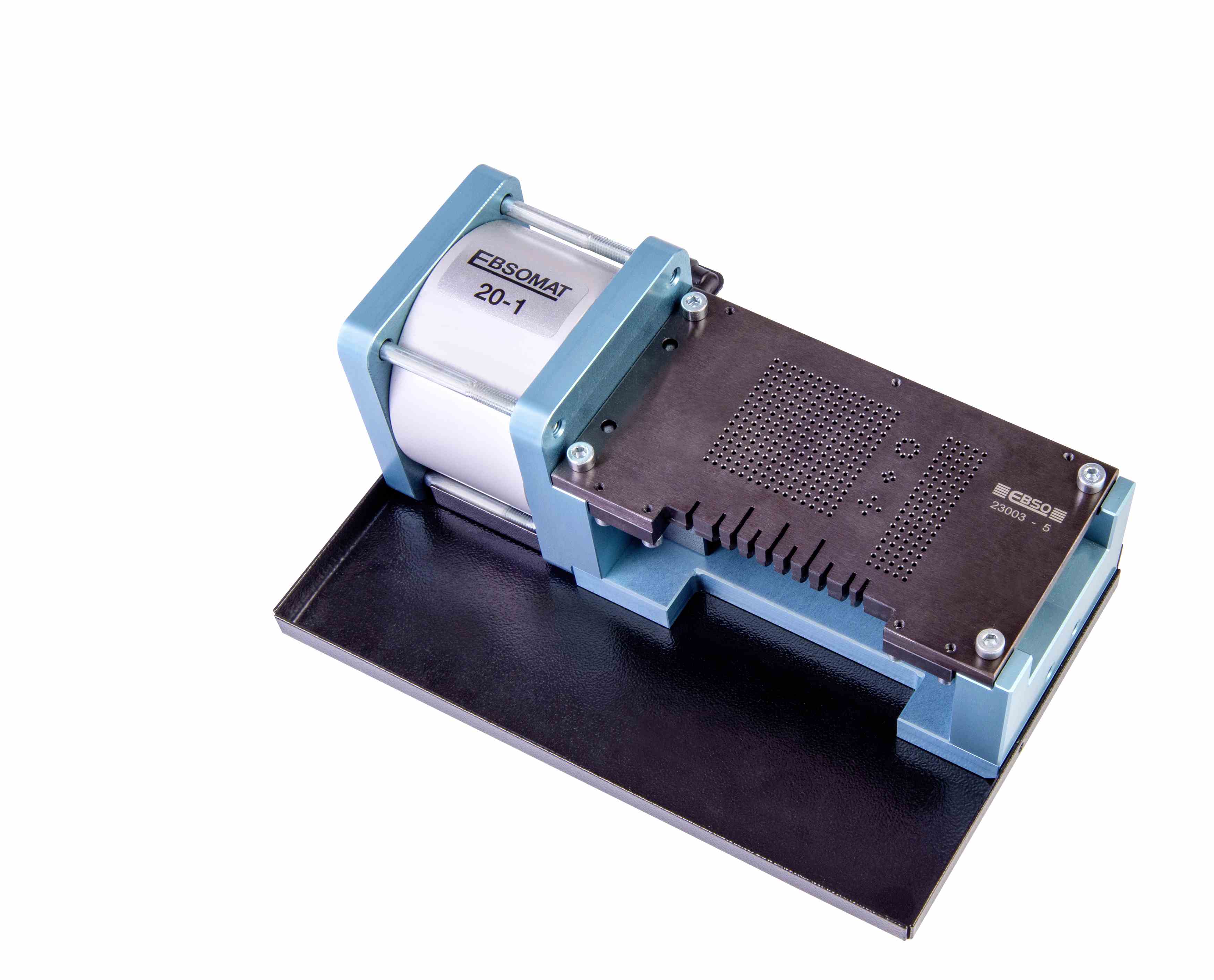 The flexible machine is truly cost effective! The base machine works pneumatically and can be equiped with a standard plate or a custom plate.
Cutting plates for 2, 3, 4, 5 mm cut lengths are available. (Other sizes also available)
Base machine includes foot pedal for air cylinder actuation.
E 20-3
Lead cutting and forming machine for radial
components EBSOMAT 20-3
This flexible machine is truly cost effective!
The base machine works pneumatically and can be equiped with a cutting plate or a support plate for forming tools.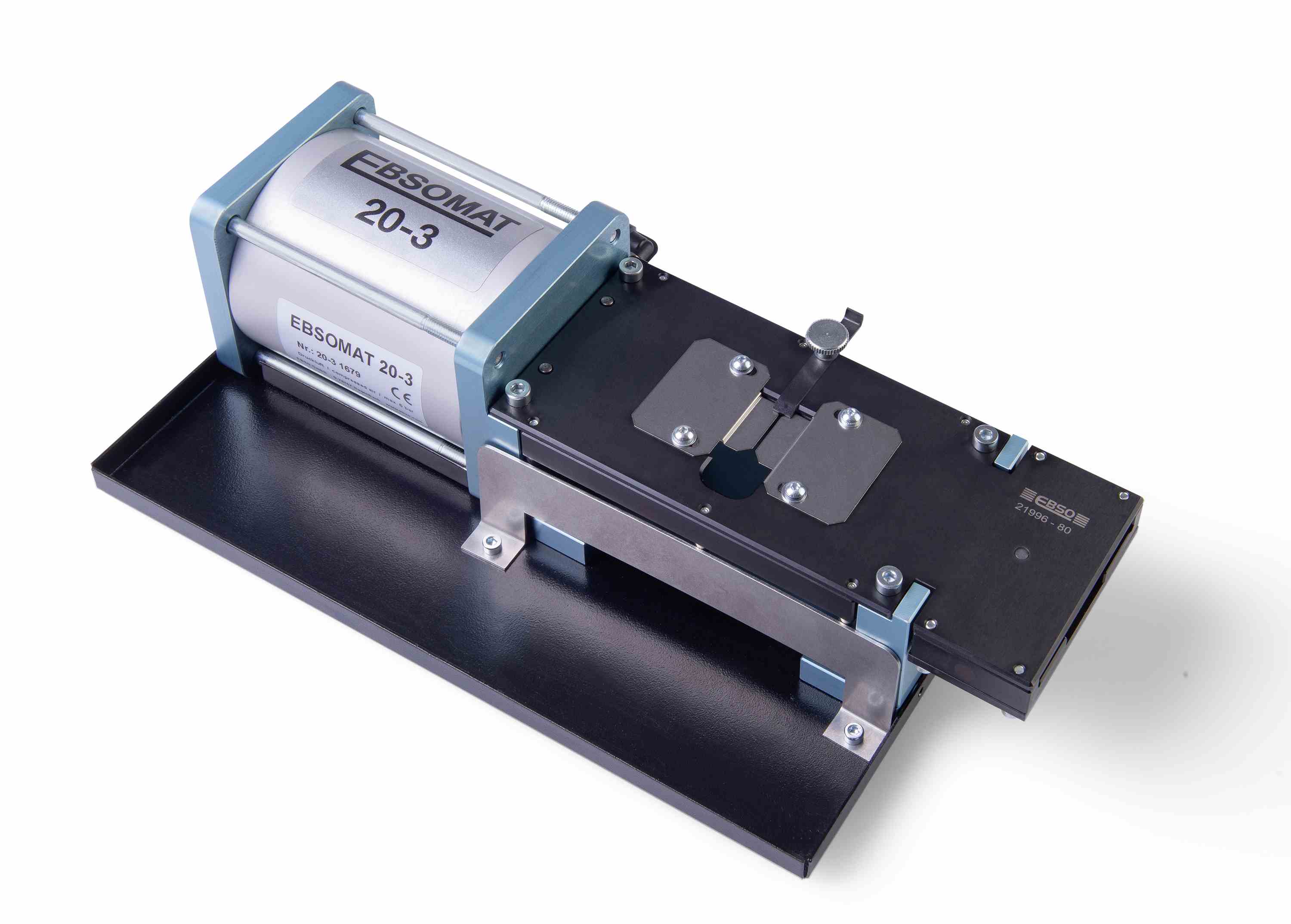 Cutting plates for 2, 3, 4, 5 mm cut lengths are available. (other sizes also availabel)
Tooling is available for a lerge variety of tran sistors and capacitor forming and cutting configurations.
Base machines includes foot pedal for air cylinder actuation.
---
AJÁNLOTT TERMÉK

---