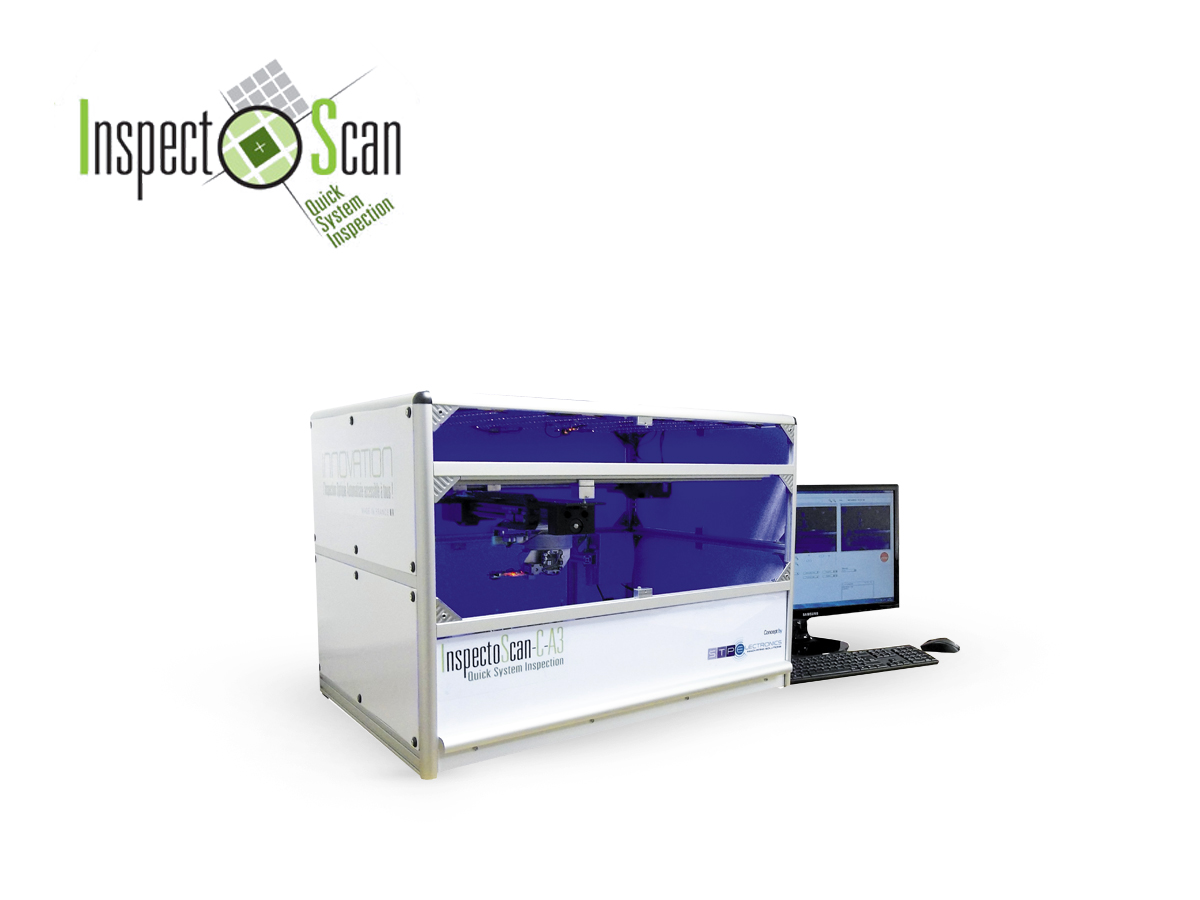 Specifications

Benchtop system

And/Or In Ligne

X / Y axis motorized

Micro camera 360 ° rotating

Angle of view of 0° to - 90 °

Integrated laser

White light and UV integrated

Height: +/- 60 mm
Benefits

Angle of view customizable

Single Shot

Storing the path inspection

Automatic movement repeatability

2D & 3D mesure
Automated Optical Inspection

InspectoScan-C responds to requests from the main market needs. This unique system allows you to control all types of elements (components, screws, silicone, data matrix, connectors, finished products ...), during or after production.


InspectoScan-C-A3 allows you to:

Increase your test coverage on the products of your customers

Improving the quality during or after production

Limit the customer returns and expensive rework

Pass specific tests in inspection
The programmer can create their own way of inspection;
Capture areas can be defined with specific lighting control within the software whilst the camera offers complete rotation (0° to 360°) with angle adjustement from 0° to -90°. Once the area is defined the user chooses a light source: white light, UV or laser (depending on the inspection control) and defines the type of test. Inspection can be manual (visual fied or rotation of an area) or set to automatic inspection, depending of the type of control required. They can create the settings that define measurements, quantities, colours etc...

Our customers use today for different types of controls:

Point of glue: presence, absence, quantity measurement
Screws: Screws, washer spacer: presence, absence, height measurement and plating
Polarity: capacity, relays, diode...
Code reading: data matrix bar code PDF417...
Read labels on components (flat, round...)
Weld inspection: presence, absence, short-circuit, height
Control of coating : the presence, absence, drop detection
Control mechanical parts (button, door jumper): presence, absence, color
Through component: presence, no
Hole: presence absence diameter measurement
Alignment: pin connector, components
Wiring: presence, absence, position

Manual and / or automated functions allow for large and small volumes and is therefore suitable for both large and small productions.

The InspectoScan-C Stand alone gives you the possibility to cover different types of specific tests and several products on the same inspection center.

But also to do on the same product, several types of analysis in a single cycle control (component + glue + UV...).

Our in-line systems offer solutions for high volume applications such as control on through hole components, before wave solder or conformal coating.
---
AJÁNLOTT TERMÉK

---