The only Totally Self-Contained Transportable Desoldering Tool in the World that is a Powerful thru-hole desoldering tool and a functional Hot-Air-Tool for SMD Rework and Thermal Contact Heads are available for fast and efficient SMD Rework of QFP's and PLCC's.
Features
Totally Self Contained diaphragm vacuum pump and AC motor for high vacuum suction or reversible hot air blow for SMD removal.
100 Watt Ceramic heater with zero-crossover switching heater control circuit which prevents spikes and leakage currents.
Unique patented long lasting filter cartridge design. Solder builds up on easily cleaned baffle, while air flows around the outside of baffle.
Totally ESD Safe. The housing contains carbon and the tip is at ground potential for complete ESD protection.
Maximum vacuum of 650mmHg is attained in 0.1 seconds.
Temperature adjustable from 350 C - 500 C or 572 F - 932 F
Compact, light-weight unit is transportable and ready to use at any location.
TRIGGER: The ergonomically correct trigger is very easy to pull and the Desoldering Tool has very little vibration when running.

FILTER: The filter cartridge is disposable, but can be used a very long time because solder builds up in a mound on a baffle in the middle of the filter. Air flow is around the baffle and into the high fibrous cotton filter. The filter only catches solder dust and flux fumes. When the filter gets dirty about one-half of the way through, then dispose of it and replace with a new filter and cartridge. There is also a secondary filter which must be replaced at the same time. There are five filters and five secondary filters to a package. The part number is 70-08-00.

VACUUM PUMP: The pump is a diaphragm type generating very high vacuum (typically 650mmHg). Since there is a very short distance from the pump to the tip, full vacuum can be realized very quick (typically 0.1 Sec.).

TEMPERATURE CONTROL: The temperature range of the unit is from 350 degrees C. to 550 degrees C. It uses Zero Crossover Type Feed Back to keep the temperature constant. There is a chart molded into the side of the handle to convert centigrade to Fahrenheit.
Voltage - AC 230V, 50/60HZ
Power consumption - 120W
Pump - Diaphragm type
Motor output - 12W
Vacuum attained - 650mmHg
Time required to reach maximum vacuum - 0.1 seconds
Air flow rate - 15 liter/minute (open)
Heater - 100W (Ceramic)
Control system - Feed back zero cross over type
Temperature range - 350 C - 500 C
Insulation Resistance - More than 100M
Max. Temp. of Hot Blow - 400C
Net Weight - 420g

POWER SWITCH: There is a Rocker Type Power Switch to turn the unit on and off, without having to disconnect the power cord, located on the bottom of the handle.

CLEANING PIN: There is a cleaning pin set that comes with the unit and also a cleaning pin that stores in the handle for quick tip cleaning when your set is not available.

POWER CORD: The unit comes in 110V and 220V models. We stock both.

LONG LASTING TIPS: The unit comes with a standard 1.0mm tip which is good for about 90% of your desoldering jobs. Six other tips are also available for specialized desoldering. Also a hot air tip is available for blowing hot-air from the tool for surface mount extraction, heating parts for troubleshooting intermittent temperature problems, and shrinking heat shrink tubing.

TIP HOLDER & CERAMIC HEATER ELEMENT: The long lasting ceramic heater is very easily replaceable by the user. It simply plugs into the main PC board. A Phillips screwdriver is all that is needed.

MECHANICAL SWITCH: The switch is used to switch from desoldering to hot-air. By carefully tuning the switch, the volume of air flow can be adjusted for SMD work. An SMD Kit is available for blowing hot-air. The SMD Kit consists of a Hot-Air Tip, a clean filter for blowing, and a wire holder and shim blade holder to assist in removing SMDs.

FILTER RELEASE: Pull this tab towards the rear of the unit to release the filter for cleaning or replacement. The secondary filter is behind the primary filter and is accessible when the primary filter is out.

HANDLE: The handle contains carbon and the tip is grounded for complete ESD Protection. The complete unit weighs less than a pound
SS-8200 Soldering Iron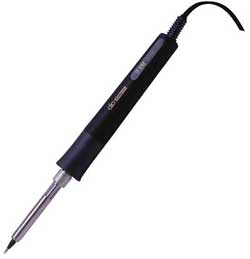 Compact, Light and Efficient

The SS-8200 is an ultra compact digital soldering iron . It was designed to work under the highest loads with a user-friendly ergonomic design.

SPECIFICATIONS

· Heater Ceramic type, 200 Watt
· Available Voltages 100VAC, 120VAC or 230VAC
· Power Consumption 80 Watts
· Temperature Range 200-450C°
· Dimensions 202 mm long x 20 mm diameter at grip area (does not include cord)
· Weight 40 grams (does not power cord)