Advanced Spectroradiometer with Optical Stray Light Reduction* for high precision light assessment.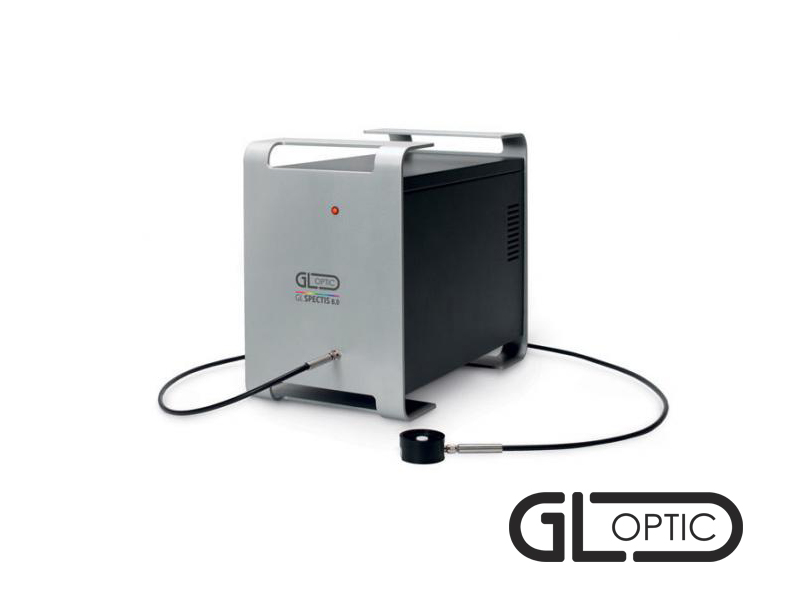 The new GL SPECTIS 8.0 is a unique, integrated Spectroradiometer containing high sensitivity back thinned CCD image sensor and revolutionary Optical Stray Light Reduction* method which brings spectral light measurement to a new higher level than ever seen before. GL SPECTIS 8.0 is the only one on market using revolutionary OSR method / Optical Stray Light Reduction*/ which ensures high accuracy of test results. In combination with the high sensitivity optical system integrated with back thinned CCD image sensor GL SPECTIS 8.0 offers many advantages compared to conventional laboratory measuring devices.
UNIQUE FEATURES
Back thinned CCD Image Sensor

Optical Stray Light Reduction*

High sensitivity

Precise calibration

Low noise

Stable and repeatable measurements

Easy operation
USAGE
Different light sources like LED, Fluorescent Lamps or LCD Displays require different optical probes. GL SPECTIS 8.0 can be combined with additional equipment to measure all different light sources, displays as well as LED light. Additional equipment is available for various measurement requirements. In order to achieve extraordinary properties of its instruments GL Optic in cooperation with world-class suppliers is offering solutions which answer the demand of the professional markets.


Applications

• Different light sources measurements: halogens, fluorescent lamps
• LED measurement and testing compliant with CIE 127:2007
• Display measurement
• Fast production process control for industry applications


The latest photonic solutions

The optical system of the GL SPECTIS 8.0 is using the latest technology solutions available in spectroscopy. Mirror/Grating/Mirror spectrometer platform uses silica transmission grating and back thinned CCD image sensor. The sensor and electronics are thermally stabilized and the software is constantly monitoring the base line level. Transmission gratings provide supreme transmission properties and high diffusion efficiency. These characteristics allow to set a very short integration time which is important in high accuracy light sources measurements and can be the crucial factor in ultra-fast production process control applications. Back thinned CCD sensor offers very high quantum efficiency over the wide spectral range. This helps to achieve more accurate and low noise light measurements in the UV, VIS and NIR range. The high optical resolution of this platform makes it an ideal tool for narrow band light sources measurements and fast light measurements in industry applications.
TECHNICAL DATA
| | |
| --- | --- |
| Spectral range | 300-800 nm |
| Detector | Back-thinned type CCD image sensor with cooling (5 °C) |
| Numer of pixels | 2048×64 |
| Physical resolution | ~ 0.33 nm |
| Optical FWHM | 1 nm |
| Wavelength reproducibility | 0.2 nm |
| Integration time | 10 ms to 10 s |
| A/D conversion | 16 bits |
| Signal to noise ratio | 2000:1 |
| Stray light | 3*10E-4 |
| Spectroradiometric accuracy | 3% |
| Measurement uncertainty of color coordinates (x.y) | 0.0010 |
| Connector for optical fiber | SMA905D |
| PC interface | USB 2.0 standard |
| Power consumption | 35 VA Max |
| Ambient temperature | 5-35°C |
| Dimensions | 220x175x320 mm |
| Weight | 7.1 kg |
---
AJÁNLOTT TERMÉK

---